Max Strength Berberine Benefits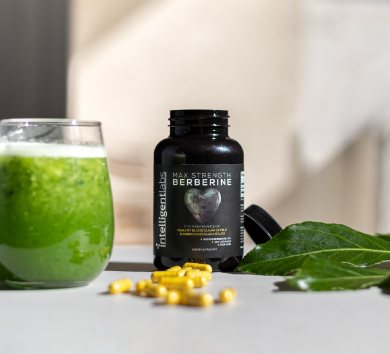 Controls blood sugar levels*
Scientific studies show that Berberine is as effective as Metformin in lowering blood glucose levels, but without the usual side effects!
Low blood sugar improves insulin sensitivity and reduces inflammation.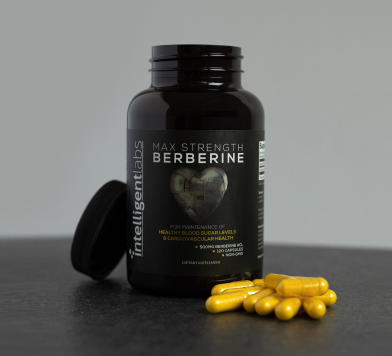 Berberine can reduce bad cholesterol levels (LDL cholesterol), total cholesterol levels, and the level of circulating triglycerides in the blood.
It can also increase good cholesterol levels (HDL cholesterol).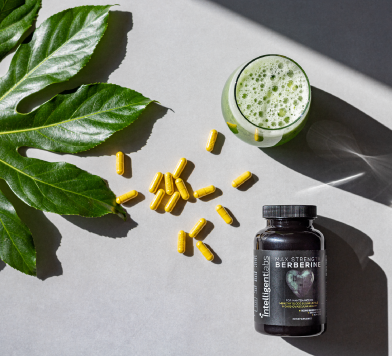 Berberine boosts the immune system and directly reduces the levels of bad bacteria in the gut.
It can also act directly against bacterial infections including MRSA and viral infections like influenza.

Clinically Approved Dosage
Research shows 500mg taken 3x daily with food is the best strength.

40-Day Supply
120 easy-to-take capsules. No fillers. 100% vegan and vegetarian-friendly.

Quality Control
Our Berberine is manufactured at an NSF GMP-certified facility in the United States.

Fair Return Policy
If you don't love our product, simply return it for a refund within 30 days (conditions apply).
Berberine is a botanical extract used in traditional Chinese medicine for centuries.
Over a thousand studies in the last few years alone have shown that Berberine is just as effective as pharmaceutical drugs like Metformin.
But unlike these drugs, Berberine is 100% natural and has very few side effects.  
Research has shown that Berberine is effective at:
+ Controlling blood sugar levels*
+ Improving cholesterol levels*
+ Promoting insulin sensitivity*
+ Supporting cardiovascular health*
+ Improving gastrointestinal health*
+ Providing cognitive support*
+ Boosting the immune system*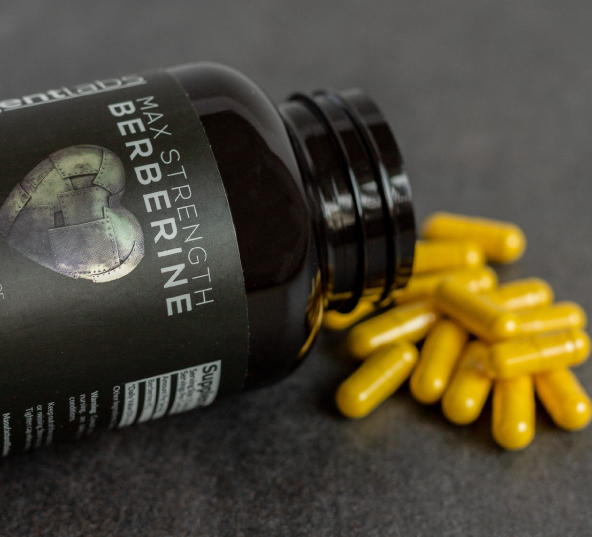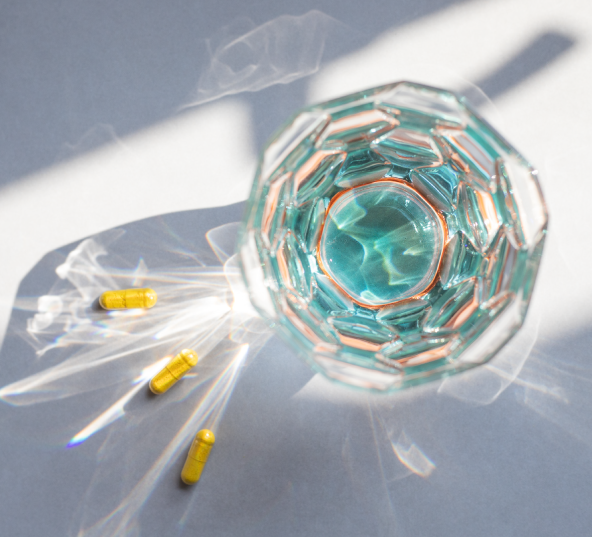 The correct clinical dosage
We use the clinically recognized dosage of 500mg per capsule.
Scientific research clearly shows that this is the best strength which needs to be taken 3 times a day with meals.
This is because Berberine is metabolized (used) by the body very quickly, so it needs to be taken regularly with food to control blood sugar.
Only the purest Berberine
We use only the purest Berberine, with no fillers or additives to give maximum absorption.
From Barberry, Oregon Grape, Goldthread, and Goldenseal, our Berberine Complex is third-party tested to ensure quality.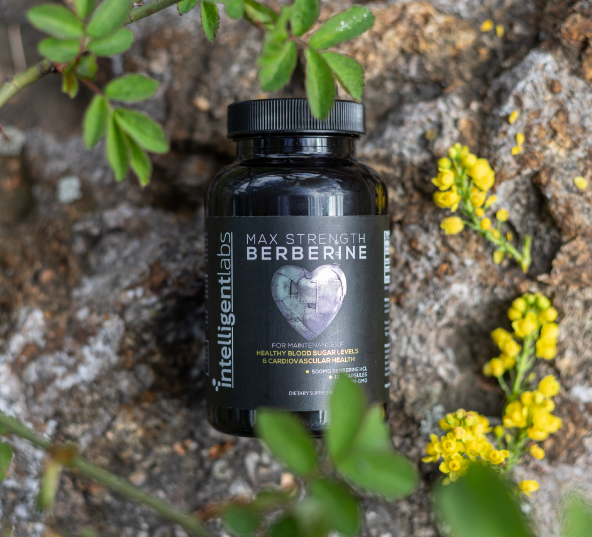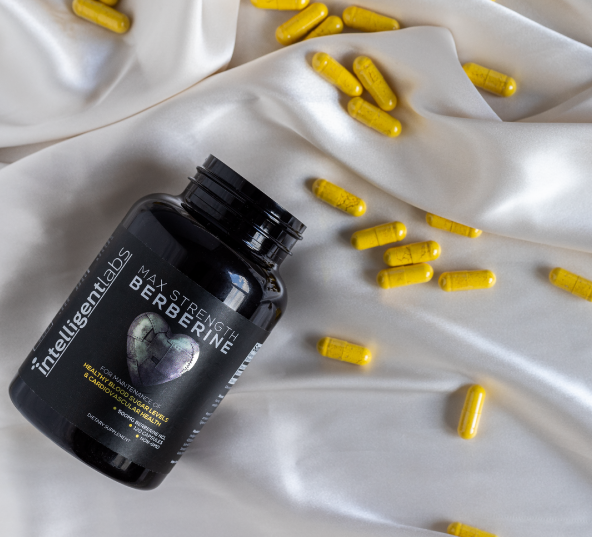 Over 1,000 published studies on Berberine
Choosing a pure Berberine supplement with the correct clinical dosage – validated by 1000's of scientific research papers – is vital to ensuring Berberine is effective for you.
At Intelligent Labs, we use high quality ingredients to make the best Berberine supplement on the market. We don't use fillers, artificial flavors, additives or preservatives on any of our health products.
Our Max Strength Berberine is manufactured at an NSF GMP-certified facility in the United States.












NO ARTIFICIAL PRESERVATIVES
Serving size: 1 Capsule
Servings per Container: 120
Ingredients per serving: 500mg Berberine HCL
Other ingredients: Cellulose Capsule
CAUTION: Consult your physician if you are taking medications, or have any medical condition.
Keep out of reach of children. Do not use if seal is damaged or missing. Please do not eat the enclosed packet. Store in a cool and dry place. Avoid excessive heat. Tighten cap when not in use.
FREQUENTLY ASKED
QUESTIONS
What dosage do you recommend?
We recommend you take one capsule (500mg) 3 times a day with meals.
Can I take more than 1 capsule per meal?
The effective dose is 500mg per capsule to be taken 3x daily. Larger dose capsules taken fewer times each day will not be as effective. Larger doses can also lead to GI side effects such as gas, bloating, pain, or diarrhea.
Why do I have to take it with meals?
Berberine is absorbed very well, but it is also absorbed more completely when taken with meals. Also, it is metabolized very quickly by the body, meaning it's used up and leaves the body very quickly after being taken. So for it to have a positive effect on blood sugar rises after a meal, it needs to be taken shortly before, during, or immediately after a meal.
Where is your Berberine derived from?
Our Berberine is derived from plants grown in both India and China. As for which specific country, it will depend on the growing season at the time.
What percentage is the potency of Berberine?
Each 500mg capsule has a potency of 76%.
Are there any side effects?
There may be slight GI side effects in the first few weeks of use, such as abdominal pain, constipation, flatulence or diarrhea. Studies have shown that these go away with continued use. However, the side effects may be more pronounced if Berberine is used in combination with Metformin.
What else is in the capsule?
Just the capsule made of vegetarian/vegan cellulose.
How should I store Berberine?
Store the bottle in a cool, dry place and out of direct sunlight.
Is it safe to take long term?
So far, studies have shown no issue with taking Berberine long term.

These statements have not been evaluated by the Food and Drug Administration. This product is not intended to diagnose, treat, cure, or prevent any disease.