Working out is probably the last thing on your mind when you go on vacation, right? You want to enjoy the sights, taste all the local culinary delights, meet new people, and have fun new adventures! Well, you can do all that – and more – while still staying in shape! Today, I'm sharing several travel workout tips to make your trip more enjoyable.
Five travel workout tips to stay fit on vacation
There's no excuse for not keeping yourself fit, not even while you're on vacation. Here's how to stay in shape during your entire holiday:
1) Plan ahead
Pre-book your travel tickets and accommodations. Choosing where you stay may have an impact on your fitness goals.
For example, what floor will you be on if you're staying in a high-rise building? You may want to take the stairs vs. riding the elevator.
Also, does the hotel or Airbnb have a pool or gym in which you can do a few reps/sets? Do they offer onsite yoga sessions?
Also, it would help to plan your vacation around various excursions and activities. Whether you go for the touristy stuff or prefer to go off the beaten path, create an itinerary of must-visit places and things to do. As much as possible, group them by location, so you can quickly go from one spot to the next, preferably by foot to burn some calories, too.
Lastly, think about what you'll do after your daily escapades – you'll probably be so tired from all the exploring. Think: happy mind and soul, but sore muscles and aching joints!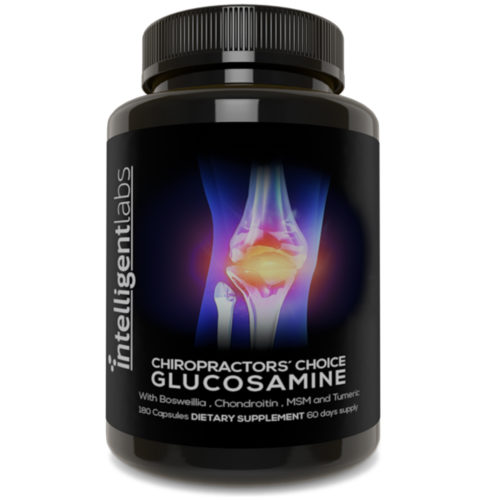 For joint health support, make sure you bring along a bottle of our Intelligent Labs Glucosamine (it may last your whole trip as each bottle is good for 60 servings).
You may start taking 3 capsules daily a week or two before your trip. But for quicker relief, e.g. you're currently experiencing bouts of joint pain, then take a loading dose of 6 capsules daily for the first 2 weeks.
Each capsule contains 8 of nature's most powerful anti-inflammatories and joint care ingredients – Glucosamine, Boswellia, Chondroitin, Turmeric, Quercetin, MSM, Methionine, and Bromelain!
Related article: How To Keep Joints Healthy As You Age
2) Bring your favorite travel workout equipment
No, I don't mean dumbbells, kettlebells, or heavy things like that! A jump rope or resistance band can do the trick to help keep your strength up – indoors or outdoors. One or two sets of workout clothes shouldn't take up too much space in your bag, so bring those along, too.
Additionally, for analog watch fans, consider bringing along a fitness tracker to count steps and calories burned. Of course, ignore this tip if you've got a smartwatch strapped 24/7 on your wrist…
Oh, and don't forget a pair of comfy shoes that will let you walk thousands of steps daily without getting blisters and/or calluses along the way! You can forget all the other things on this list, but not your shoes! If you do, buy a new pair that won't take weeks to break in properly.
3) Walk as much as possible
Grouping nearby touristy spots together allow you the opportunity to walk around, explore nearby places, and get some travel workout done in one fell swoop.
But if you're in a rush and want to take in as many sights as possible, then organized walking tours may be ideal. Some places offer them for free or you can hire a knowledgeable local to guide you around. These tours give you some context and history of the location, so you have some stories to share when you get home!
Walking up the stairs to your room, walking from the hotel to nearby restaurants, or hiking up and down a nature trail will help you get a feel for the place while also burning calories.
4) Rent a bicycle
Bicycles give your legs a good workout, don't they? And they take you much further than plain walking. If you're feeling adventurous, grab a map and get on that bike!
Of course, not all places are bike-friendly. Many cities though are, especially in Europe, where the infrastructure for cycling is excellent. If you're visiting Copenhagen, Amsterdam, Paris, Barcelona, or any of the cities on this list, rent a bike to explore and workout at the same time.
5) Sign up for activities that require movement
Binge-watching Netflix may be a top priority for some. But why spend your entire break in front of a tiny screen when you've got the whole world in front of you?
Vacation is the perfect time to learn new things! You're away from work and all the stresses associated with it.
So, why not sign up for various activities like dancing classes, swimming, skiing, tennis, surfing, or paddleboarding? Perhaps a few rounds of golf if you want something a little less active? Anything that will require you to move around will add an extra layer of fun to your vacation!
Why should you workout on vacation?
Yeah, it sounds like a bummer, right? Here you are, thinking you're only going to have 100% fun while on vacation. But if you read the tips above, then you know you don't need to do anything crazy to get some travel workout done!
Walking and moving around are really all you need to do to compensate for the (probably) copious amounts of delicious food you're going to eat! Of course, the last thing you want to happen is to gain weight from a few days off work. Surprise everybody at home with your back-from-vacation physique!
Let me give you a few examples of some cardio travel workout exercises and how many calories you burn along the way: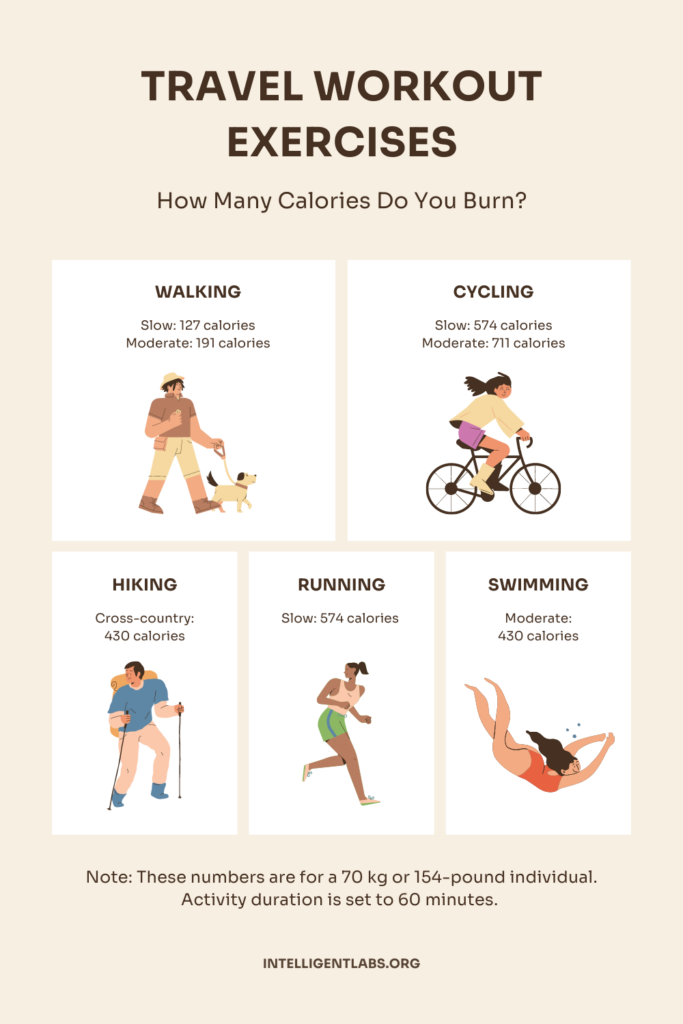 How long should a vacation be anyway?
There's no set number of days for a break to qualify as a vacation. The dictionary defines it as "a period spent away from home or business in travel or recreation." This means that you can technically call a long weekend off, a 4-day break, a week-long PTO from work, or even a year-long sabbatical, a vacation!
However, if you want to know the optimal length for a vacation, it's actually only 8 days according to this 2013 study published in the Journal of Happiness Studies. Researchers found that a person's feelings of well-being increased quickly and peaked on the 8th day. The positive feelings though were short-lived and waned a few days after returning to work.
But here's the thing, the more vacations you take in a year, the lower the risk for metabolic syndrome! This is because during vacation, people are able to relax and not worry so much about various work-related stressors.
Conclusion
Travel workout need not be rigorous or excessively tiring. Physical activities like walking, cycling, slow running, swimming, and/or hiking can help maintain your energy and physique even while on vacation.
Simply put, a well-planned vacation allows you to hit several birds with one stone – explore the sights and sounds, eat new dishes, make new memories with loved ones, and exercise while you're at it!