While newborn babies are tiny bundles of pure joy and happiness, carrying another human being in the womb is NOT for the faint-hearted. So, here's a pro tip from one woman to another: protect yourself and your baby and take prenatal vitamins as soon as possible!
But which multivitamin should you take? Well, that's what we're going to talk about today. In this article, I'm going to share with you several facts about our Intelligent Labs Women's Prenatal Pregnancy Multivitamin.
Here are 10 things you need to know about our Prenatal Vitamins
There's certainly no shortage of pregnancy multivitamins in the market today. But we believe our very own supplement is the best there is! Here's why:
1) Each tablet contains 25 essential vitamins and minerals!
We've specifically chosen 25 vitamins and minerals for holistic pregnancy support. And we put a lot of thought into the nutrient amounts included per serving (1 tablet). As you can see in the Supplement Facts below, we use higher concentrations than many other brands.
Each serving contains all the B vitamins that are essential for a successful pregnancy:
Vitamin B1 – Thiamine – 12mg or 1000% of the required daily value (%DV)
Vitamin B2 – Riboflavin – 13mg or 1000% DV
Vitamin B3 – Niacin – 25mg or 156% DV
Vitamin B6 – Pyridoxal-5-Phosphate – 25mg or 1471% DV
Vitamin B9 – 5-MTHF – 400mcg or 167% DV
Vitamin B12 – Methylcobalamin – 400mcg or 16667%
We also added Vitamins A (in its pregnancy-safe form Beta Carotene), C, D, E and K, as well as the most important minerals needed for healthy mom and baby!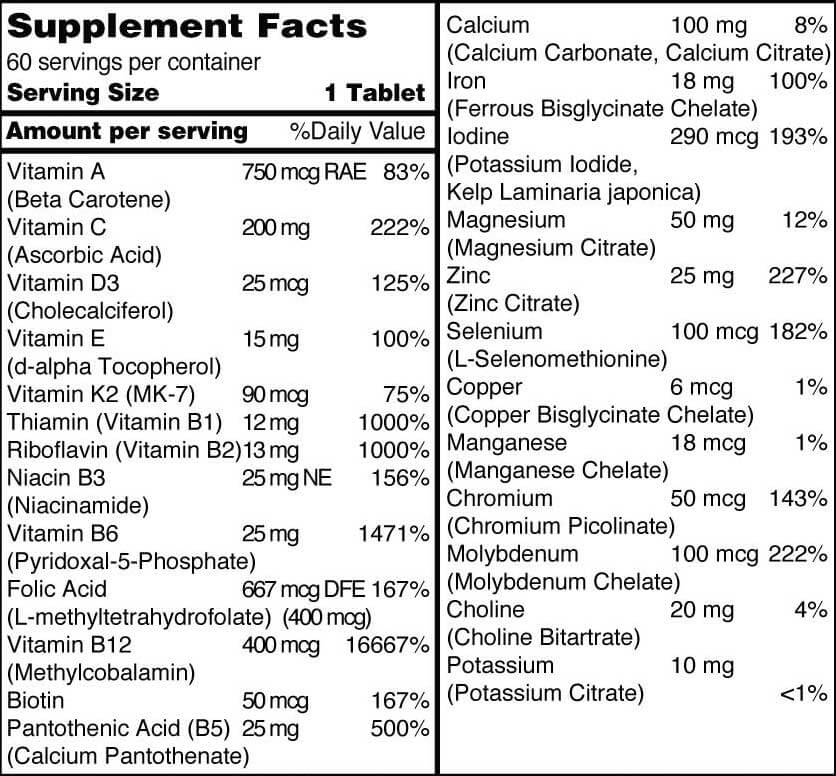 2) We use the most bioavailable forms of nutrients
In addition to the number of prenatal nutrients included per tablet, we also took quality into consideration! After all, what good is a higher concentration of nutrients if your body can't absorb it, right? You'll just end up flushing it down the toilet!
For example, instead of regular folic acid, we use 5-MTHF activated folic acid. This is because people with the recessive MTHFR gene are unable to metabolize regular folic acid. As you probably know, folate or folic acid is one of the most important nutrients a fetus needs. Folic acid deficiency can lead to birth defects, specifically neural tube defects, where the baby's brain and spinal column fail to develop properly.
Additionally, we are the only prenatal brand that uses the active form of vitamin B6 (P-5-P). Other brands use the inactive form of pyridoxine because P-5-P is 7x more expensive!
Lastly, we also use the active form of vitamin B12 (methylcobalamin) over its synthetic version (cyanocobalamin). Methylcobalamin is better absorbed by the body and it's used more efficiently as well.
3) Not just for pregnant women – we recommend taking our prenatal vitamins prior to conception!
So, the general advice for women trying to conceive is to start taking prenatal vitamins ASAP. Actually, scratch that. Sexually active women should be taking prenatal multivitamins because no one knows when fertilization (when sperm meets egg) might occur.
The truth is that many women don't even realize they're pregnant until they're well into their first or even second trimester! This can lead to all sorts of problems for both mother and child, specifically neural tube defects (NTD) in the fetus. This is because the brain and spine develop in the first 4-6 weeks, so if mom is lacking essential nutrients, NTD and congenital issues may arise.
However, if you start taking prenatal multivitamins prior to conception, you're virtually eliminating the risk of NTD in your baby. You'll also exponentially increase the chances of having a successful pregnancy!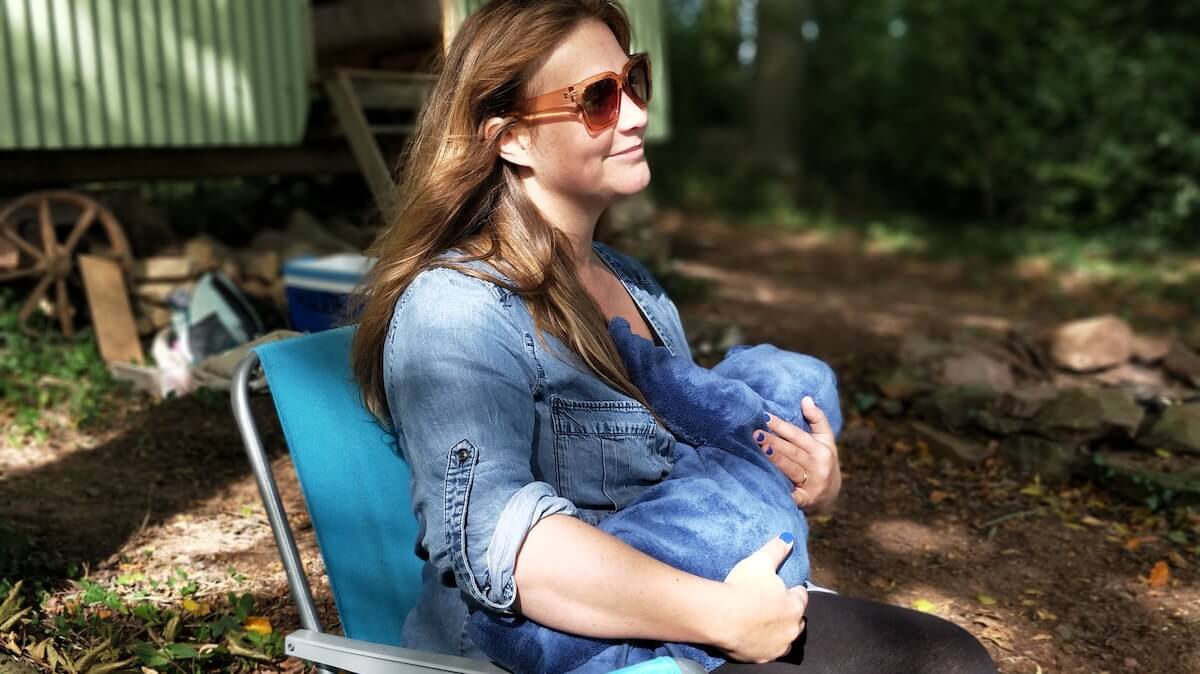 4) It's perfect for breastfeeding moms too!
Another thing I love about our prenatal vitamins is that you can continue using it even after you give birth and start breastfeeding your baby! We've included several nutrients to help power your breastfeeding journey; these include:
Iron – Ferrous Bisglycinate Chelate – 18mg or 100% DV
Iodine – Potassium Iodide – 290mcg or 193% DV
Vitamin D3 – Cholecalciferol – 25mg or 125% DV
Vitamin B12 – Methylcobalamin – 400mcg or 16667%
5) You only need to take one tablet per day
I get it – you're busy. And if you're like me, you probably hate keeping track of all the supplements you need to take every single day. Well, instead of dividing one serving of our prenatal vitamins into 2 or 3 smaller tablets, we decided to just put everything into one big tablet. So, now, all you need to remember is to take your tablet once per day, preferably with breakfast!
6) Easy-to-break tablets
So, yes, our tablets are big but they're also thin because we didn't add any fillers to it. To deal with the size issue, we made an ingenious solution for people who hate taking extra-large tablets – by making them easy-to-break. We added a central score in each tablet so you can easily break them into two halves. So, there you go – big tablet problem solved!
7) We use active packaging technology to protect the precious cargo inside
We'd all die if we didn't get enough oxygen. But did you know it's the opposite for water-soluble vitamins like vitamin C and the B vitamins? Yes, exposing these vitamins to oxygen can destroy them.
So, to combat this problem, we use a special type of active polymer for our bottles to eliminate moisture and reduce oxygen levels to 0.01%! This helps ensure that when you take your prenatal vitamins, you're getting the full 25 vitamins and minerals in your system!
But here's the thing, the bottle can only do so much. You also need to do your share by tightening the cap when it's not in use.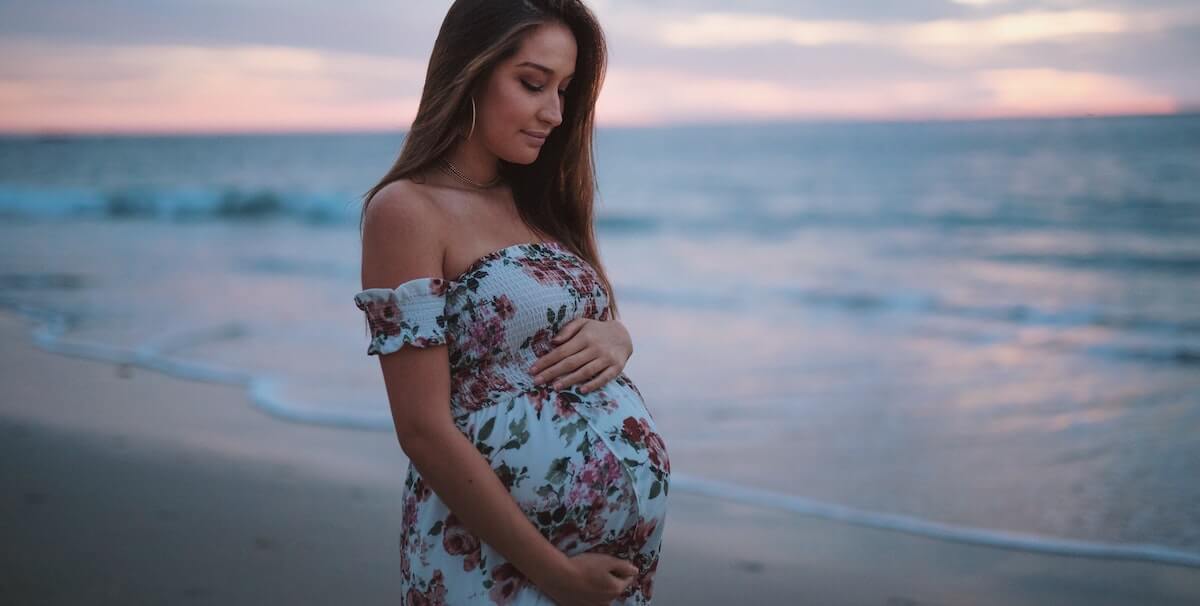 8) Excellent value for money
Each bottle of our prenatal supplement contains 60 vegetarian tablets. At 1 tablet per day, this means each bottle will last you a good 60 days. Also, we know how expensive pregnancy and babies can get, so we priced our supplement very competitively to help as many women as possible!
9) Manufactured at a GMP facility
The quality of our pregnancy supplement matters to us. We manufacture at an FDA and GMP-registered facility in the USA. We also have third party lab tests done to confirm our supplements are exactly as described!
10) Love it or 100% money-back guarantee
We packed this multivitamin with 25 bioavailable nutrients in high concentrations that you can take from preconception all the way up to breastfeeding. Plus, of course, we made sure you get excellent value for your money.
You won't find this money-back guarantee anywhere else. We're hoping you're going to love it as much as we do, but if not, simply return it to get your money back.
Final Words
It's never too early to give your baby an advantage in life. Start taking our prenatal pregnancy multivitamin even before your child is conceived. It's one of the best things you can do for your child!