To say that Magnesium (Mg) is an important mineral is an understatement. It's literally required in hundreds of chemical reactions in the body! It's especially vital for your nervous system, heart, and bones.
Unfortunately, lots of people are deficient. The good news is that magnesium supplements like our MagEnhance Triple Magnesium Complex may help raise levels in the body.
In this blog post, we'll examine the benefits of taking magnesium supplements – and why you need to take them in the first place!
How Common Is Magnesium Deficiency?
Even though magnesium is so important, many people don't get enough of it. Averages vary by country. But even in the richest nations on Earth, as many as 70-80% of people are unknowingly deficient.1
Deficiency is usually misdiagnosed because magnesium in your blood serum makes up only 1% of the amount present within your body. In fact, 80%-90% of it is in your muscles and bones. This makes it hard to estimate exactly how many people have deficiencies.2
Low Magnesium Symptoms: 12 Signs You May Be Deficient
Here are the most common signs you may be lacking in magnesium:3 4
Muscle cramps & spasms
Insomnia
Brain fog & memory problems
Osteoporosis & brittle bones
Tooth decay
Erectile dysfunction
Constipation
Irregular heartbeat
Anxiety & depression
Fatigue
Appetite loss
Extreme cases may include seizures and convulsions.
Note: If you even have a few of these symptoms, it may not be due to deficiency. Many of the symptoms appear in other disorders, too. Don't self diagnose. Talk to your doctor.
What Are Examples of Magnesium-Rich Foods?
While the best magnesium supplements may help boost your health, they don't taste nearly as good as natural food sources. Nuts, seeds, legumes, grains, fruits, and veggies are all great sources of this mineral.5
Here's a graphic showing the foods richest in magnesium in various categories: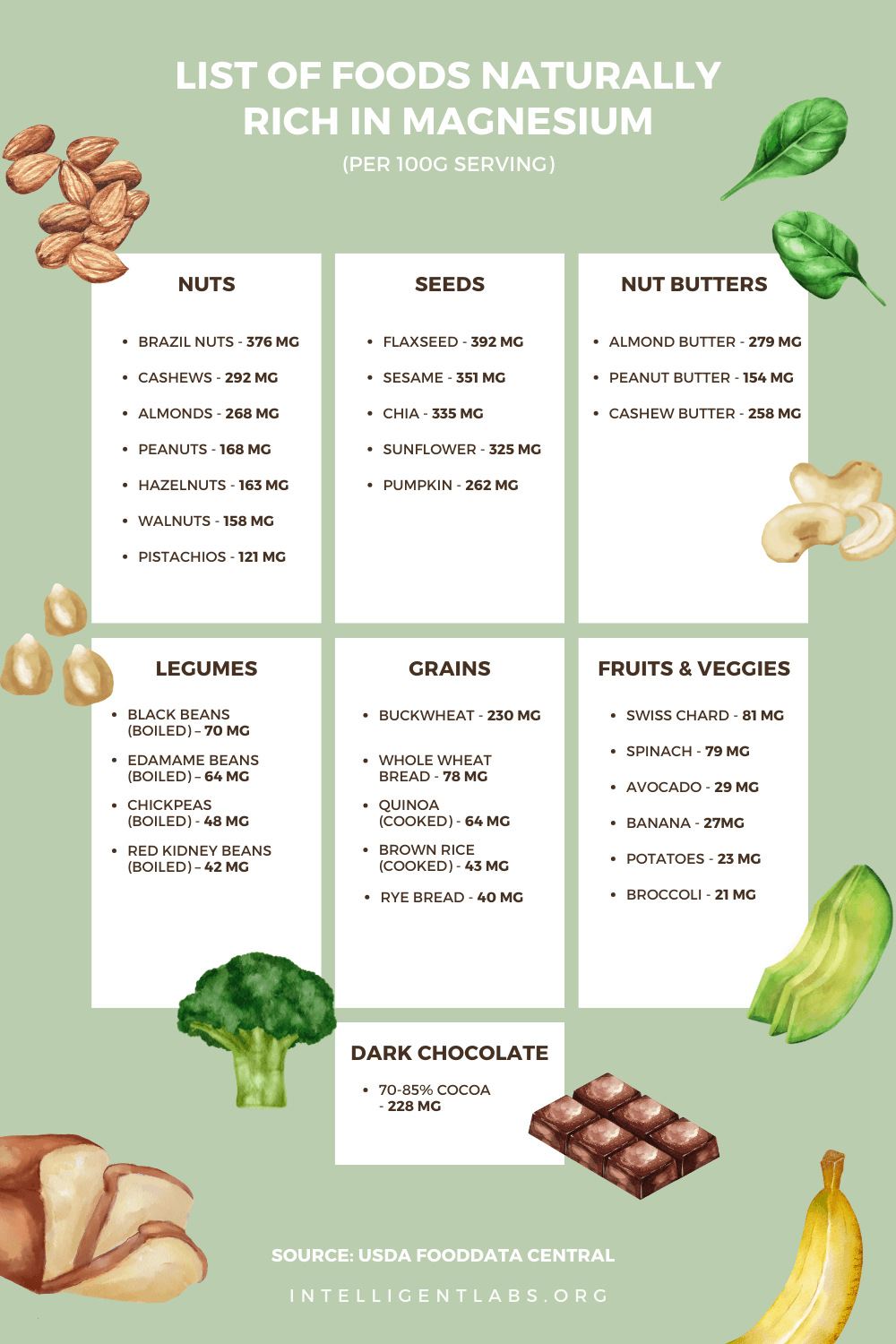 What Are The Benefits of Taking Magnesium Supplements?
The list of magnesium benefits is very long, but these are some of the most notable ones:
What Are The Types of Magnesium Included In MagEnhance?
Our Intelligent Labs MagEnhance Complete Magnesium Complex features 3 different types of magnesium. All are easily absorbable forms with the lowest chance of side effects.
Magnesium Taurate
This is a salt made of magnesium and the amino acid, taurine. It's best known for helping with heart health and for calming the mind.21 22 23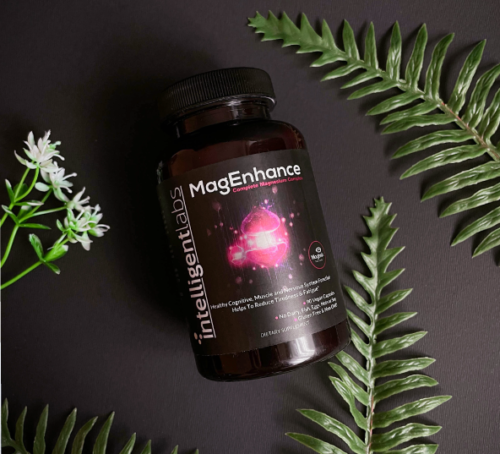 Water breaks it down into magnesium ions and taurine. Both have strong affinities with GABA receptors, just like benzos, Valium, and alcohol.24 25 Both compounds also support the heart and blood circulation and help improve cognition.
GABA is the neurotransmitter that calms mental activity and helps you relax. Without it, you cannot relax or sleep.
Lack of sleep can cause many health problems, as you already know, but did you know that lack of sleep can even make you fat? Yes, so next time you feel guilty about snoozing on the couch, give yourself a break because naps are good for you.
Magnesium L-Threonate
This compound was developed by researchers at MIT and two other universities. Their goal was to create a compound that crosses the blood-brain barrier and elevates Mg levels in the brain and spine.
Magnesium L-threonate – which is patented under the brand name, Magtein – is known for improving memory and cognition and for calming anxious and restless thoughts. People also use it to reduce migraine symptoms.
The blood-brain barrier keeps most nutrients, drugs, and toxins from entering the brain through the bloodstream. Magnesium L-threonate gets into the brain easily.26 This makes it the ideal form for improving brain function.
Magnesium Glycinate
Widely touted for being one of the most bioavailable forms, Mg Glycinate is used to ensure healthy levels of magnesium throughout the entire body. It doesn't cross the blood-brain barrier, though. But that isn't a problem with MagEnhance because we also added Mg L-Threonate to our formulation. So, they complement each other very well.
The combined glycine and magnesium help to calm the mind.27 Moreover, this form is also known for being easy on the digestive system. Magnesium supplements might trigger diarrhea and other symptoms if you take too much. It's usually temporary. Those who continue to have these problems with other forms often report fewer or no issues with Mg glycinate.28
Want to know more about the differences between these 3 forms of magnesium in MagEnhance? Check out our in-depth blog post: Magnesium Glycinate vs L-Threonate vs Taurate: What's The Difference?
How Much Magnesium Can You Safely Take Each Day?
Adult men typically need 400mg-420mg. For non-pregnant adult women, that number drops to 310mg-320mg. Pregnant women need 350mg to 360mg per day.29
Excessive alcohol use and some diseases may lower the amount your body uses. High zinc consumption may also interfere with absorption. You may consume larger amounts of magnesium or take a high-absorption supplement like magnesium glycinate to compensate.
Overdosing on magnesium is normally not a big deal. You may get diarrhea, but your kidneys – assuming they're healthy – will get rid of the excess.
Upper limits may vary according to different government agencies and professional associations. But don't stray too far from the recommended daily intake without consulting a doctor.
Are There Any Side Effects or Interactions to Worry About?
The most common side effects are loose stools and digestive discomfort. Sometimes that's temporary, and your body just needs to get used to it. It could also mean you consumed too much and should lower your daily dose.
Nausea and vomiting could also happen, but these side effects are less common.
Serious Side Effects
Serious side effects are rare. They include allergic reactions, dangerously low blood pressure, confusion, slow breathing, and coma. Most of these symptoms could mean you have accumulated too much magnesium in your body too quickly. If you experience any of them, get medical attention immediately.30
Interactions
Magnesium may lower the effectiveness of antibiotics. The same goes for bisphosphonates, which are used for osteoporosis. Excessive doses of zinc may block magnesium absorption. So may chronic excessive alcohol use.
Conclusion
To conclude, magnesium is absolutely vital for our bodies, being involved in hundreds of biochemical reactions. Unfortunately, millions of people are deficient, leading to various symptoms.
The good news is that supplements may help raise levels in the body and provide many benefits. Since MagEnhance contains 3 different types of absorbable magnesium, it may be an effective way to optimize your health.
Don't let magnesium deficiency hold you back. Start taking MagEnhance – the best magnesium supplement – sooner rather than later!
---
References